Dental Cleanings & Checkups Near You
Dental cleanings and checkups are essential when it comes to ensuring that one maintains excellent oral health. They work to ensure that you don't suffer from a buildup of bacteria on your teeth and along your gum line. At Terra Dental Care, we are happy to provide our patients with comprehensive dental cleanings and checkups in downtown Calgary.
The Importance of Dental Cleanings & Checkups
When you drink or eat, a clear layer of bacteria forms on your teeth. This layer is called plaque. When left alone, plaque can harden into tartar, which can no longer be removed with a routine home oral hygiene routine. As the tartar remains on the teeth and along the gum line, it can lead to various oral health conditions; specifically, tartar can contribute to the development of gum disease. In the early stages, gum disease is painless and often does not cause any symptoms. Due to this, patients often don't seek treatment until it progresses further. When addressed early on, gum disease can be entirely reversed; however, it can no longer be reversed when it advances and can lead to long-term oral health damage. When you visit Terra Dental Care for regular dental cleanings and checkups in downtown Calgary, our dentist can check for early signs of gum disease and treat it before it progresses.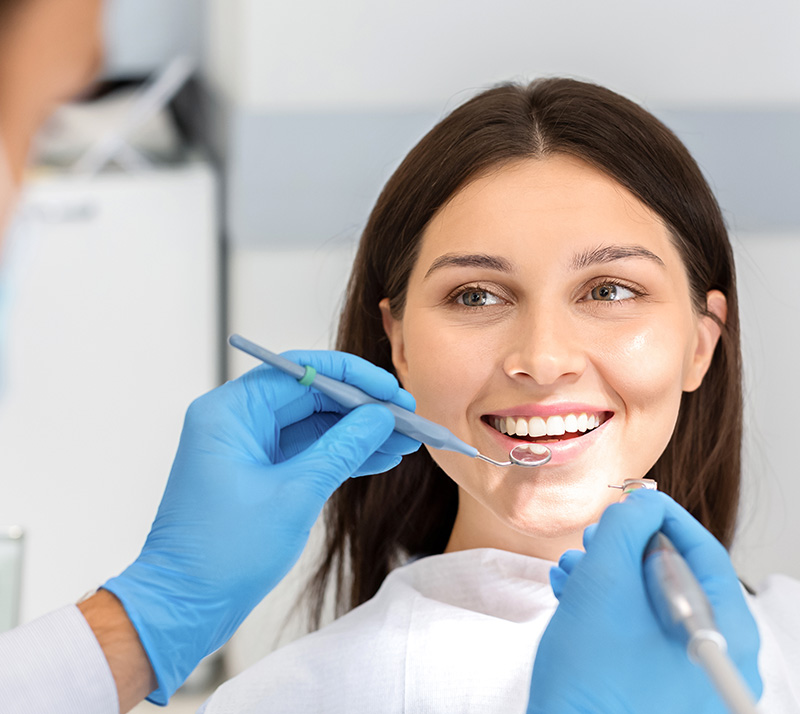 What Happens During Dental Cleanings and Checkups?
When you choose to receive dental cleanings near you, the process will typically take about one hour. During this time, our hygienist will:
Scale your teeth and remove plaque and tartar
Polish and floss your teeth
Provide a fluoride treatment to protect your teeth from future cavities
After your dental cleaning is finished, our dentist in downtown Calgary will come in to perform their dental checkup. During the checkup, our dentist will:
Take x-rays of your teeth and gums to check for underlying health conditions
Visually inspect your mouth for any signs of gum disease
Evaluate you for oral cancer
Discuss your oral health and changes to your medical history
How to Maintain Optimal Oral Health
Having a healthy smile is important to your overall quality of life. Our dentist recommends that you do the following to keep your mouth healthy:
Brush your teeth at least two times a day for a minimum of two minutes
Floss once daily
Rinse your mouth after sugary meals or snacks
Visit our dentist at Terra Dental Care at least once twice a year
If you are looking for dental cleanings and checkups near you, please visit our team at Terra Dental Care. We are proud to provide quality dental care to all of our patients. Please contact us to schedule an appointment today!